I Followed Harry Styles Around the US on Tour, and It's the Best Thing I've...
I Followed Harry Styles Around the US on Tour, and It's the Best Thing I've Ever Done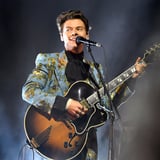 Get the Full Story
Image Source: Getty
"I'm Harry. I'm from England," is something I could probably never get tired of hearing Harry Styles say while holding his guitar in a room full of his adoring fans. I heard him introduce himself that way in seven different cities on his debut solo tour this Fall, and each time made me love him just a little bit more.
Related2017: The Year Everyone Else Figured Out What Harry Styles Fans Knew All Along
Truthfully, I love Harry Styles more than I love a lot of things in life. His music is artful and he's a charming fellow, but it's the whole world that surrounds him - this fandom - that make his shows my favorite place to be. When he announced back in the Spring - before his debut album was even released - that he'd be going on a short tour of small theaters across the US, I knew I had to be in as many of them as possible. But tickets were nearly impossible to get, even with my Harry prayer candle burning away beside me while I scoured Ticketmaster. However, due to luck, some favors, and a fair bit of hard-earned cash, I got myself entry to six of his tour stops, plus the iHeart Radio Music Festival, and here is exactly why it's the best thing I've ever done for myself.
Harry Styles iHeart Radio Music Festival: Las Vegas
A post shared by Hedy justhedyj on Sep 23, 2017 at 1:24am PDT
Show 1: San Francisco
Harry's tour kicked off in my old home of San Francisco, and there wasn't any shred of possibility that I'd miss this show. It was his first show as a headliner on tour. FIRST. I waited 60 hours on a sidewalk to see him perform solo for the first time ever on Saturday Night Live earlier this year, so do you think I'd miss his first headlining show?
I will never be able to share my deepest gratitude to Harry himself for not just putting on a great show every night, but for creating a space for his fans to come together and feel safe and loved and appreciated.
I watched Harry's debut show from the second row, and it was a surreal experience. It was both everything and nothing I expected. Despite not being quite as silly and chatty as I'd recalled from his One Direction days, he was still on fire, and I chalked it up to first-show jitters. He soared through his sadly short set list, but the best moment of perhaps my entire life was when he did a cover of One Direction's "What Makes You Beautiful," which was their first hit and a pop masterpiece that I will defend until the day I die. He sang that literal feet in front of me, and I'm honestly not sure how I survived the rest of the night.
Show 2: Los Angeles
I hopped on a plane to LA the next day to go to Harry's second show in what he considers to be his second home. This show was so unbelievably different from San Francisco. The atmosphere was different, since the show was outside, and Harry was so on. He had a lot of friends in the audience - including fellow One Direction member Niall Horan - and we all know how much Harry loves to put on a show for people he cares about.
The real gem of the LA show was when he stopped playing his newest single, "Kiwi," because the crowd wasn't dancing enough. He reminded us that he was about to be singing to us that he's having our baby, so the least we could do was dance. And then he proceeded to start the whole damn song over again. So demanding. So charming. I left that show feeling like I was seeing more of the Harry I was familiar with. And it only got better from here.
Harry Styles Live on Tour Night 5: New York City
A post shared by Hedy justhedyj on Sep 28, 2017 at 9:33pm PDT
Show 3: Las Vegas
Vegas is an easy jaunt from LA, so obviously I went over to see Harry's set at the festival. He only played a handful of songs for a crowd that was, for the most part, probably not familiar with him, but he still put on a show worthy of a room of his fans. He still sprayed the people in the front of the crowd with water - and then promptly apologized when he realized these particular showgoers weren't used to him doing that every night. I am proud to say that even though the crowd wasn't as upbeat as he was used to, his performance didn't falter.
Related18 Reasons Harry Styles Should Be Your New Celebrity Crush
Show 4: New York City
I skipped a couple shows between the West Coast and my home of NYC, because, you know, real life and all. Don't think I didn't try to figure out a way to get to Nashville and Chicago, though, because I totally did. Harry sold out Radio City Music Hall, one of the most iconic venues in the world, and played the show not just to his fans but also to all the people from his record label in attendance. You see, I was once told by someone very close to Harry that Harry does whatever he wants, and that was very clear at the New York show.
After his final song, "Sign of the Times," Harry told the entire 6,000-plus crowd that he wanted his next single to be "Kiwi" and that maybe his label execs in attendance needed some convincing. So he played the song for us again and ran all over the stage singing his heart out. Fun story: it was announced just days later that his new single would be "Kiwi." THAT POWER.
Harry Styles Live on Tour Night 6: Boston.
A post shared by Hedy justhedyj on Oct 1, 2017 at 1:38pm PDT
Show 5: Boston
Boston wasn't originally in my plans for this Harry tour of the country. But then it turned out I didn't have anything to do that Saturday and Bolt Bus had a seat open on a bus to Boston and StubHub had a ticket with my name on it, so off I went. I met up with a handful of Twitter friends before, during, and after the show, and they were the icing on the cake of what was maybe my favorite show of the tour.
I ended up with an unexpectedly amazing seat for this show, and Harry was so lit up. I had no idea Boston was so special to him, but seeing how happy he was on that stage and how much he interacted with the crowd was inspiring. His singing was more confident, his horrible dancing was more excited, and everything in between was just bigger. He also wore a gorgeous custom Gucci suit, and it was at this point that I realized he had been changing up his wardrobe every night, and the anticipation of what he'd wear was almost as high as the anticipation of whether or not he'd change up the set list - which he'd been doing in the form of rotating his One Direction covers.
Related26 Harry Styles Facts That Only the Diehard Fans Know
Show 6: Dallas
Dallas also wasn't in my original plan, but after a sweet deal from a friend and from Volvo, I found myself in Dallas, where I was pleasantly surprised to learn that Harry is a huge fan of Texas. Who knew?
After stopping "Kiwi" one time to encourage a male fan in the audience to be more lively, he started the song back up, only to stop again and encourage the rest of us to be as lively as the male fan ended up being. That Harry, he loves to be cheeky and get all the attention. And I mean that in the best of ways. He closed the show by prancing around the stage in a rainbow feather boa and a pink cowboy hat, and it was in that moment that I felt content with my decision to constantly be throwing my money and love at such a good role model.
Harry Styles Live on Tour Night 11: Dallas
A post shared by Hedy justhedyj on Oct 11, 2017 at 11:21pm PDT
Show 7: Austin
I actually left the Dallas show and immediately drove down to Austin for the show the next night, which I had a general admission ticket for. I got in line at 3 a.m. behind 100 other dedicated fans and sat there all day. I even napped briefly, because I have become adept at sleeping on public sidewalks, all thanks to One Direction. This was my last show of my Harry tour, and frankly I was exhausted, which is why I wore freakin' yoga pants to the show. Some came dressed for date night; I came dressed to dance. And dance is exactly what I did - from the second row AGAIN. Y'all, I'm the queen of the second row, but one day I'll be in front. Just like one day I'll meet Harry . . .
Harry's Austin show was a bit of a dream for me. He came out wearing one of my favorite outfits he's ever worn, and from the first note of "Ever Since New York" to the last beat of his "Kiwi" encore, the whole show was everything I could ever want. He danced, he pranced, he blew kisses in my general direction, and he didn't hesitate to tell me OK, he told us how much he loved me.
Harry Styles Live on Tour Night 2: Los Angeles
A post shared by Hedy justhedyj on Sep 21, 2017 at 12:30am PDT
There's no feeling quite like finding something you love wholly and deeply. That's been me for years with One Direction and now the boys as solo artists. I will never be able to describe quite how I felt when the first note of "Ever Since New York" rang out in The Masonic in San Francisco and Harry stood silhouetted behind a pink curtain. I will never be more grateful for all the friends I met from all over the country and from all walks of life on this tour and past events. Friends who started as Twitter friends and became IRL friends and friends who became more than just the people who waited in line near me. I will never be able to share my deepest gratitude to Harry himself for not just putting on a great show every night - it was expected - but for creating a space for his fans to come together and feel safe and loved and appreciated. I will never for one second feel anything but joy when I reminisce about Harry's first tour that I tagged along for, because it was honestly some of the best days of my life. And if after hearing him belt out "Kiwi" what felt like a hundred times over the course of a month convinced me to get a cute little kiwi tattoo to commemorate it, well then, so be it.
Some tickets, travel, and accommodations provided by Marriott, Volvo, and Harry Styles for the purpose of writing this story.
Share: