The 1 Accessory Melania Trump Wears From AM to PM - No Questions Asked
The 1 Accessory Melania Trump Wears From AM to PM - No Questions Asked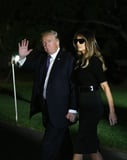 Get the Full Story
Many people go searching for Melania Trump's sunglasses to reminisce about her returns to the White House in October 2017: once from Puerto Rico, where she and the president visited victims of Hurricane Maria, and then from Las Vegas, following the deadly mass shooting. On both occasions, it was after dark and Melania wore her signature accessory: oversize sunglasses.
But we're here to tell you that Melania Trump should not just be remembered as the "sunglasses at night" FLOTUS, for she wears plenty of standout styles during the day, too. From Dolce & Gabbana shades to her mirrored aviator lenses and Saint Laurent tortoise rims, it seems as though Melania's collection of sunglasses extends just as far as that of her bags or shoes.
Her sunglasses don't come without controversy either remember when she sparked outrage for putting on a pair of Guccis to visit the Arlington National Cemetery? Ahead, you can get a full rundown of her go-to shapes, and even shop similar versions to the ones you've spotted on the White House lawns or at public ceremonies, where the president and his wife were welcomed to new countries and states.
RelatedMelania Trump's Year in Coats - From Chanel to Dolce & Gabbana
Share: