Bet You Can't Guess What Other Sport Figure Skater Johnny Weir Almost Chose...
Bet You Can't Guess What Other Sport Figure Skater Johnny Weir Almost Chose Instead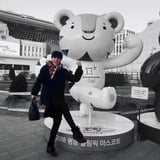 Get the Full Story
The 2018 Winter Olympics is officially underway, and the only thing colder than the ice in Pyeongchang, South Korea, is Johnny Weir's sassy one-liners. His saucy commentary with Tara Lipinski quickly went viral, but that's to be expected with Johnny. Love him or hate him, you have to admit he's entertaining. This former Olympic figure skater always gives you something to talk about. Read on for five fun facts about Johnny.
A post shared by JOHNNY WEIR johnnygweir on Dec 15, 2017 at 11:34am PST
He Is Legendary For Throwing Shade
"There's no one more judgmental than an ice skater," Weir said at the beginning of his Olympics broadcast on Feb. 8. At least he's being honest - maybe too honest? After Nathan Chen's fall, the former Olympian didn't hold back, calling it "the worst short program I've ever seen from Nathan Chen." Cold as ice, indeed.
RelatedAshley Wagner Just Shocked Figure Skating Fans by Showing Up to the Olympics
He Is Gaga For Lady Gaga
Johnny is a confessed superfan of the singer songwriter, and the similarities between the two are hard to deny. Johnny is quite the fashion plate, and whether you agree with his sartorial decisions or not, he always makes a bold statement - just like his icon, Lady Gaga. They both live to thrill and shock with their wardrobes in particular , are mega-talented, and unafraid of pursuing their own unconventional styles. Johnny even paid tribute to Mother Monster in a rousing skate to her hit, "Poker Face."
He Grew Up Ice Skating in a Cornfields
Johnny grew up in Amish country, in Coatesville, PA, and taught himself how to skate on the frozen cornfields in his backyard.
RelatedThe Weirdest - and Most Amazing - Figure Skating Music Choices You'll See at the Olympics
Off to work! Thank you sofitelnyc for a great rest before my shoot today! Can't wait to crawl back into bed tonight! sofitelnyc sofitelnorthamerica sofitel #hotcar #work #wanderlust
A post shared by JOHNNY WEIR johnnygweir on Oct 11, 2017 at 8:25am PDT
He Hosts The National Dog Show With Tara Lipinski
The dog-lover hosted The National Dog Show this past Thanksgiving with fellow Olympian Tara Lipinski, where his one-liners took on a more canine angle.
RelatedHere's When Every Single Olympic Figure Skating Event Is Taking Place
He Was Almost an Equestrian Instead of a Figure Skater
It's safe to say Johnny loves horses, too. He was an avid equestrian growing up, until he had to make the tough decision between figure skating and riding. Thankfully, he chose a career on ice, instead - where would figure skating be without him?
To hear more from Johnny, tune in to his live coverage in Pyeongchang. The Winter Olympics air live on NBC beginning Feb. 8.
Olympic Spirit taralipinski #winterolympics #korea #style
A post shared by JOHNNY WEIR johnnygweir on Jan 29, 2018 at 12:40am PST
Share: