10 Facts About Gordon Ramsay That Are Deliciously Fascinating
10 Facts About Gordon Ramsay That Are Deliciously Fascinating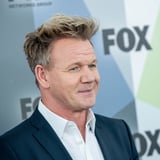 Get the Full Story
Here's what you probably already know about Gordon Ramsay: he loves to swear, he's good in the kitchen, and he's got about a zillion TV shows. And, oh yeah - he's the richest celebrity chef on the planet. But what about his family life? His cars? His soccer-playing past? Read on to learn all about who Gordon Ramsay when he's not cooking up delicious dishes, and probably to get even more jealous of just how awesome he is.
Related:
10 Facts About Ina Garten That Prove She's Even Cooler Than We Originally Thought
He originally wanted to be a professional soccer player. Gordon started playing "football" a.k.a. soccer at age 12, and at 18 tried out for the Rangers, the soccer team he supported as a boy in Glasgow, Scotland. He changed careers after a knee injury.
He doesn't let his kids fly first-class. Gordon attributes his success to his rough upbringing, so he doesn't want his kids to feel too overprivileged. He doesn't plan on leaving his money to them either.
He has five restaurants in Las Vegas. With the opening of Gordon Ramsay's Hell's Kitchen in January 2018, Gordon brought his Sin City total to five, including Gordon Ramsay Burger, Gordon Ramsay Steak, Gordon Ramsay Pub & Grill, and Gordon Ramsay Fish & Chips.
He has five children. Gordon and his wife, Tana, have had five kids since getting married in 1996 - daughters Meghan, Matilda, and Holly, and sons Jack and Oscar. Oscar was born in June and already has a huge following on Instagram.
He's a big car guy. Gordon has a huge number of cars in his collection, including rare Ferraris, a Bentley, and an Aston Martin.
He's a voice actor. Gordon has voiced chef characters in a number of animated films and TV shows, among them Phineas and Ferb, The Simpsons, Big Hero 6: The Series, and Mickey and the Roadster Racers. One of his most high-profile cartoon roles was as a Baker Smurf in Smurfs: The Lost Village.
One of his restaurants has a vegan menu. Gordon hasn't historically been the biggest fan of non-meat eaters and his favorite dish is beef Wellington , but he recently unveiled a vegan menu at his Bread Street Kitchen eatery in London, featuring dishes like a celeriac Wellington and spiced maple carrots.
He's Emmy-nominated. In 2017, Gordon was nominated for an Emmy as host of a reality program for his role as a judge on Master Chef Junior. He lost to RuPaul.
His favorite American food is grits. In 2018, when Gordon was a guest on The Late Show With Stephen Colbert, he said the one American food he wished was more widely available in the UK was grits. Preferably with shrimp and Parmesan cheese.
He never eats on planes. "I worked for airlines for ten years, so I know where this food's been and where it goes, and how long it took before it got on board," he has said. He opts instead for a pre-flight snack of Italian meats, cheese, and wine.
Share: