Kelly Clarkson Is Bringing Her "Invincible" Spirit to a 2020 Las Vegas Residency
Kelly Clarkson Is Bringing Her "Invincible" Spirit to a 2020 Las Vegas Residency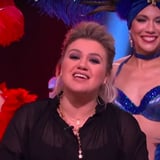 Get the Full Story
Kelly Clarkson is heading to Vegas! No, the daytime host isn't leaving behind her music career or The Kelly Clarkson Show for a new life as a showgirl, though we don't doubt that she would excel at it like she does everything else. However, the singer is joining the ranks of legendary icons like Mariah Carey, Britney Spears, Celine Dion, and Janet Jackson by headlining her very own Las Vegas residency at Zappos Theater at Planet Hollywood Resort & Casino. The 16-show Kelly Clarkson: Invincible residency will kick off on April 1, 2020, and run until September 2020, with performances in April, July, August, and September.
True to her nature, Clarkson announced the news with a medley of her hits during her standard "Kellyoke" opening as she was joined by Las Vegas showgirls on her daytime talk show. "When I launched this show I heard from fans everywhere who were worried I'd stop putting out new music and touring," the 37-year-old singer said. "Well, don't worry. I got you. I've scored my very own residency in Las Vegas!"
"Not only am I getting to perform, I'm gonna get to play all the Wheel of Fortune slots, which is really my reason for going there," Clarkson continued. "The gambling, the shows, the all-you-can-eat buffet, and crab legs, I love all of it."
View this post on Instagram
A post shared by Kelly Clarkson kellyclarkson on Nov 1, 2019 at 6:09am PDT
A press release describes the residency as "a one-of-a-kind up-close music experience that rocks through Clarkson's nearly two-decade-long catalog of award-winning smash hits." Considering how we never get tired of hearing Clarkson talk, let alone sing, we are ready to grab our tickets! Tickets will officially go on sale on Nov. 8, which you can find on the residency's official website.
"I've always loved performing in Las Vegas and the high energy of the crowds there," Clarkson said in the press release. "So many of my musical idols have had, and still have, incredible residencies on The Strip, and I'm so excited to create my own!"
Share: