A New 007?: Idris Elba May Replace Daniel Craig As the Next James Bond
A New 007?: Idris Elba May Replace Daniel Craig As the Next James Bond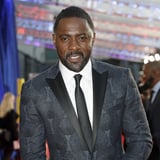 Get the Full Story
There's been a lot of speculation around Idris Elba being the next 007 successor in the James Bond franchise, and according to executive producer Barbara Broccoli, the actor could be a step closer to snagging the role. In an interview on the Deadline Podcast, Broccoli revealed that there have been talks around Elba being the franchise's next star, though the official casting process has not yet begun.
"Well, we know Idris, I'm friends with him and he's a magnificent actor," she said. "You know, it's been part of the conversation, but it's always difficult to have the conversation when you have someone in the seat. I think we have decided that until No Time to Die has kind of had its run and Daniel has been able to, well, we've all been able to, reap the benefits of Daniel's wonderful tenure, we're not gonna think about or talk about anybody else, actors to play the role or storylines or anything. We just wanna live in the moment, the present."
Craig made his debut as James Bond in 2006's Casino Royale and continued his run in the role up until 2021's No Time to Die. The latest film marked Craig's final curtain call as the famous spy after he's killed off in the movie, but Bond still lives to fight another day as the film franchise continues - hopefully with Elba at the helm.
In previous conversations over the years, actors like Cillian Murphy, Tom Hardy, Lashana Lynch, and Henry Cavill have all been tossed around as possible names to be the new James Bond replacement. But Elba's name continues to circulate, and honestly, he sounds like a worthy candidate to take on the job. Even Sony Pictures executive Amy Pascal shared that "Idris should be the next Bond" in a leaked 2014 email. So there's hope we may see Elba try on the Bond tuxedo after all, but we'll stay tuned until the news gets confirmed.
Share: