13 Kourtney Kardashian and Travis Barker Looks That Prove They're Always in Sync
13 Kourtney Kardashian and Travis Barker Looks That Prove They're Always in Sync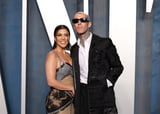 Get the Full Story
While Kourtney Kardashian and Travis Barker were definitely an unexpected celebrity couple at first, we can't deny that they are a match made in heaven. The 42-year-old Poosh health guru and reality TV star and Blink-182 drummer have a love story for the ages with their whirlwind romance and obvious love for each other and their families.
Recently, the two have been making headlines with their Las Vegas elopement, PDA-filled red carpet appearances, and press tour for the first season of Hulu's "The Kardashians." At every single outing, the lovebirds have been sporting outfits that deem them worthy of their title as the It-rockstar couple. They typically stick to a single color palette, adding edgy accoutrements such as chainlink necklaces, dark sunglasses, or leather platforms to turn heads and tie their looks together.
From matching leather jackets for their impromptu wedding at a chapel in Las Vegas to coordinating sunglasses at the Grammys, the couple have proven time and time again that individual personality can still be expressed, even while styling complementary pieces to your partner's. Even before their most recent outings, Kardashian and Barker were always trend-conscious on their own, after all, with Kardashian working closely with stylist Dani Michelle and Barker consistently churning out his own version of grunge, high-fashion streetwear.
From casual monochrome daytime getups for outings in LA to signature all-black for date night, it's fair to say Kardashian and Barker know how to play off one another. Scroll for some of our favorite examples to date.
Related:
Kourtney Kardashian Details How She and Travis Barker Went From Friends to Lovers
Share: