Kourtney Kardashian and Travis Barker Wore Matching Menswear Looks to the Met...
Kourtney Kardashian and Travis Barker Wore Matching Menswear Looks to the Met Gala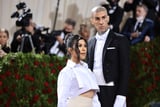 Get the Full Story
Kourtney Kardashian and Travis Barker are surpassing all the milestones this year. After attending various award shows together and even getting symbolically hitched in Las Vegas, the famously affectionate couple attended the Met Gala for the first time on May 2. Kardashian and Barker both wore coordinating Thom Browne outfits that were in line with the white-tie dress code, but perhaps not the most representative of this year's "Gilded Glamour" theme. "I honestly didn't really think about it," Kardashian said of the theme in a red carpet interview with Vogue.
Kardashian's outfit consisted of a cropped button-up shirt and floor-length skirt featuring a slit and clashing fabrics. She paired the business look with classic black pumps. Barker, meanwhile, matched in a tuxedo with a pleated skirt layered over pants and patent oxfords. "I'm basically a deconstructed version of his outfit," Kardashian said. Barker added, "She looks amazing."
The pair often dresses in sync, and they recently attended the Grammy Awards, as well as "The Kardashians" premiere, in matching all-black outfits. For their spontaneous Vegas wedding, they wore leather jackets, and Kardashian's was draped over a yellow corset with an embroidered cross.
Contrary to what one might think, this is indeed Kardashian's first time attending the high-profile fashion event. Her sister, Kim Kardashian, previously attended a total of eight times starting with her polarizing floral Givenchy dress in 2013. Kendall Jenner has attended seven times, Kylie Jenner four, and matriarch Kris Jenner, five times. Khlo Kardashian had yet to attend - that is, until this year.
Related:
Every Question You've Ever Had About the Met Gala, Answered
Share: