Diddy Opened the Billboard Music Awards With a Star-Studded Medley
Diddy Opened the Billboard Music Awards With a Star-Studded Medley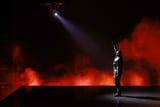 Get the Full Story
Diddy wore many hats at the 2022 Billboard Music Awards. In addition to hosting, the gregarious rapper also performed during a star-studded medley that opened the May 15 award show in Las Vegas. Joined by his five children in attendance, Diddy said the event will officially mark his return to the music industry after several years of tending to his brands.
Diddy kicked off the festivities with an unreleased song featuring Bryson Tiller. Jack Harlow then appeared to perform his ubiquitous single "First Class," and moments later, Teyana Taylor took the stage to perform a cover of "Mo Money Mo Problems." The hit was originally released by The Notorious B.I.G. for Diddy's Bad Boy Records in 1997, and Diddy appeared on the track with Mase. During the final moments of the performance, Taylor's six-year-old daughter, Junie Shumpert, popped up on stage and danced along.
When previously asked about the reason for the hosting gig, Diddy told Billboard, "I know how to host; I know how to control a frequency. So yo, it makes sense." He added, "Also, because I'm returning to music, it's like the biggest coming out party that you get to have live on network TV. They call me Primetime Puff, so I just jumped right into the energy."
Related:
Machine Gun Kelly Can't Resist Snapping Pics of Megan Fox at the Billboard Music Awards
Share: