The WNBA All-Star Game Honored Brittney Griner on Their Jerseys and on the Court
The WNBA All-Star Game Honored Brittney Griner on Their Jerseys and on the Court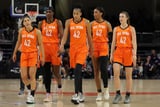 Get the Full Story
It's been nearly five months since Brittney Griner has been detained in Russia, and her WNBA family continues to show support to help bring her home. On July 10, the best players in the league gathered for the WNBA All-Star Game in Chicago, where the court featured a decal with BG42 written on it. At the start of the second half of the game, every single player competing walked out of the locker room wearing a jersey with Griner's name and number on it. Griner, who has played in 7 WNBA All-Star games throughout her career with the Phoenix Mercury, was named an honorary All-Star starter this year.
Candace Parker, Sue Bird, Breanna Stewart, A'ja Wilson, Nneka Ogwumike, Sabrina Ionescu, and more superstars made sure that Griner's name was at the top of everyone's minds. "She's our sister, and at the end of the day, we're going to do whatever we can to amplify the platform that we have to make sure that everyone does what they need to do to make sure she gets home safely," Wilson told ESPN. "Not a day goes by that I'm not thinking about Brittney Griner. So wearing her jersey and letting the world know that we're not whole without her, I think that's statement in itself."
After scoring 30 points and being named the MVP of the game, Las Vegas Aces star Kelsey Plum dedicated her trophy to Griner. "For BG," she wrote on social media alongside a photo of her with her award. Griner's wife, Cherelle Griner, was also in attendance at the game.
Griner was arrested on February 17 in a Moscow-area airport after Russian officials reportedly found vape cartridges that contained hash oil in her luggage. The WNBA champion was on her way to play with the Russian Premier League during her offseason, where she had played for five previous offseasons. On July 7, Griner pleaded guilty to the drug charges, which, according to Reuters, could result in a 10-year prison sentence. Her arrest has been classified as wrongful detainment, and her next hearing is scheduled for July 14.
Related:
Megan Rapinoe Shows Support For Brittney Griner While Accepting Her Medal of Freedom
Share: