Casey Affleck Welcomes Jennifer Lopez "to the Family" After Missing Brother...
Casey Affleck Welcomes Jennifer Lopez "to the Family" After Missing Brother Ben's Wedding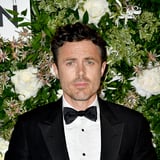 Get the Full Story
Jennifer Lopez and Ben Affleck tied the knot again in a Georgia ceremony over the weekend, but the latter's brother, Casey Affleck, was noticeably absent from the celebration. Despite missing the couple's nuptials, Casey offered the newlyweds a sweet message via Instagram to celebrate their love.
"Good things are worth waiting for. Here is to twists and turns, new beginnings, and finding new reservoirs of old love. Welcome to the family," he wrote to his sister-in-law alongside a throwback photo of them and his brother on Aug. 21. "Get ready for some real dysfunction! Kidding. I am kidding. Jen, you are a gem. We love you so much!!! ."
Related:
J Lo Gets Married Again in a Backless, Cap-Sleeve Gown
On Aug. 20, Ben and Lopez exchanged "I dos" for the second time - they got legally married at a Las Vegas wedding chapel on July 17 - in Riceboro, GA a small town outside of Savannah in front of their close friends and family. It's unclear why Casey missed the wedding, but celebrities like Matt Damon, director Kevin Smith, "Clerks" star Jason Mewes, and model Pia Miller were all in attendance.
Casey has kept a relatively low profile over the years, though he was recently spotted at the 75th annual Cannes Film Festival in May. The actor, known for starring in films like "Gone Baby Gone" and "Manchester By the Sea," was hit with sexual harassment allegations in 2010 when two women who worked on his "I'm Still Here" film filed lawsuits against him. Both cases were settled out of court for an undisclosed amount that same year. Casey denied the accusations repeatedly over the years, though he told AP in 2018 of working on his movie's set, "I behaved in a way and allowed others to behave in a way that was really unprofessional."
Share: